My name is Rosario. I am an Angel Guidance Practitioner certified by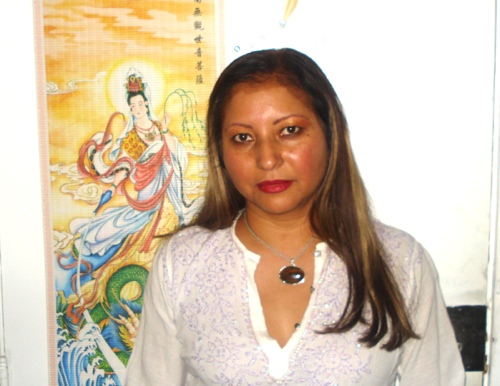 Ellen Valladares (an Angel Therapy Practitioner certified
by Doreen Virtue). I was born in Guatemala and came to the United States as a child. I have always had a strong spirituality and have felt a strong connection with God and Angels as my guides.
For the last ten years, I have studied Reiki, Magnified Healing, Reconnective Healing, Bach Flowers and Angel Guidance Practitioner. All of which have helped me align with the one source of all, God. As a spiritual guide, I believe that my purpose is to help others on their own journey(s). To help others awaken, connect and find their purpose. Additionally, I have studied lightwave with Bryan De Flores and work on quantum healing; Which helps us to balance and shift our frequency.
I believe that Love is the strongest force in the Universe and we are one soul.
I believe that children deserve our Respect, Love and Kindness. We need to honor them and learn from them by allowing their Light, Joy, Creativity and Divine Wisdom to shine.
There is no higher purpose than service and I am here to serve.
Love & Light,
Rosario
My Mission:
To create a learning center, a place where children can be and believe in our oneness.
A place where mantaining the connection with our spirit will help us create a World of Love, Joy, Peace, Unitylove and unlimited potential.
The day I met Rosario, my life changed forever. I'm not sure what I will do without Rosario, she's my forever rock. I might have to become a light worker just to be close to Rosario. I had hit rock bottom by the time I had met Rosario, and Rosario has always said to me don't worry, you are very protected. I never understood those words until now. Today my life is not what it was 8 years ago. My dreams, my wishes, my faith kept me afloat only because Rosario said dont let anyone take away your joy. Had it not been for Rosario, I dont think I would be the person I am today. Now I try to pass on the same thoughts to others who feel that they are alone, because we are never alone. I truly found that out first hand. I try my best live by harmony and peace today and encourage my children to do the same. I thank Rosario, my Angels and God for breathing life back into my heart and soul. The fears I had are gone….and Rosario said they would go away as long as I believed. One of the best things I like about Rosario, was all her readings are positive, even when its not so positive…she will give you hope. Its always better to have hope than to have none at all. Rosario has consistency and beauty…after all Im still here 8 years later to thank Rosario for saving my life and there were times where she gave up her time just to keep me safe to go back home to my family. She just never knew what that meant to me, until today. Thank you Rosario, Love You and Im sending you some angel blessings today.
- Diane Robles